LOCATING EARLY ICE PANFISH
It has come that time of year again when the piercing winter chill takes over the Midwest and the lakes start cooling dramatically. With that comes a lot of excitement amongst the ice angling community for chasing early ice panfish and for me this is where I find the most success. Especially for Crappie! In this article I go over some Tips and Tricks to help ensure a successful and safe early ice season.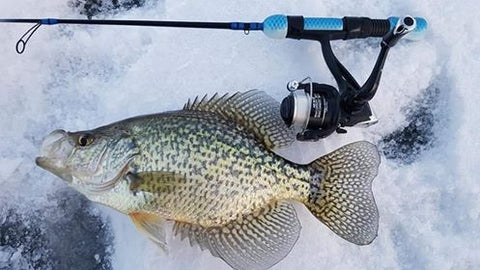 "Getting Ready"- It's vital to make sure your gear is ready to go for your first trip out. Nothing is worse than equipment failure on your first trip on the ice for the season. I like to start out by putting all my safety gear together such as the spud bar, ice picks, float suit, rope, emergency kit, and so forth. After that its on to firing up any gas-powered equipment such as buddy heater, auger, and snowmobile to be sure they are performing as they should for when it is time to go. My favorite part is getting the rods, tackle, Ice Runner shanty, and electronics ready. And yes, I'm guilty of sitting in the ice shanty pretending to jig! With electronics charged, Ice shanty set up, and line re-spooled on my reels I can be confident that I won't miss a hot bite
due to equipment failure. I choose to run ultra-light line such as 2-4lb Suffix Ice Magic on my ICX5 and Carbon-X from Piscifun, paired with my Panfish Noose and Quiverstick from Diamond Custom Rods. Having the proper line, a light reel with smooth drag, and technique specific sticks greatly increases hook percentage while maintaining smooth operation.
"Walking on the Water"- With gear ready to go I'm ready to hit the hard water. I always try to inform family & friends of where I am going and having a fellow angler along on the first few trips out for added safety. This greatly boosts confidence levels and can mean the difference between life or death. My advice to those pushing the limits of whats considered fishable ice would be to trust your gut and make sure to have a safety plan in place before approaching the ice. No fish is worth a life or loosing a loved one.
"Locating the Fish"- Finding the fish during early ice can be difficult at times when limited by fishable ice and battling the crowd for hot spots. Hot spots become less and less productive for quality fish over time and often you can beat the crowd by targeting the perimeters of weed bed structure and the structure that transitions into the main lake basin. If all else fails don't be afraid to check deep and look for suspended schools. During this time of year lake oxygen levels in general have stabilized, the water has cleared up, and the panfish are on the move. By utilizing locations where success was had during the previous fall bite and winters past, I'm able to locate schools of Panfish easier and spend less time drilling holes. With that said always be prepared to drill a lot of holes and keep an open mind to trying new locations. With the new electric auger set ups available today, its never been easier to stay very light and portable on early ice. I run and gun with my Ridged drill and Clam Plate combination. Once I narrow in and mark a few fish on my graph I then proceed to drill a grid area of holes separating them by 10 feet or more of distance. Keep in mind that the fish can get spooked when moving around and drilling holes, especially in shallow water, so it's good to check previous locations again after things have settled. Staying on top of them often requires staying on the move utilizing this network of holes you have drilled.
"The Bite Is On"- The bite can very any given day but there are always few essential baits I prefer to always have on hand. 3-6mm tungsten jigs, small to medium spoons, and lipless raps. Having a variety of sizes, colors, and glow options helps zone in on the bite depending on conditions. Tungsten and raps are a must have for getting back down to the bite quickly when on the fish, especially in deep water situations. I tend to tip my jigs with a crappie minnow whole or head, wax worm, plain plastic, or plastic combined with one of either. Don't be afraid to try different presentations to see what works best. Most of all be safe on your ventures and we'll see you on the ice. Hard in the upper lip!
-By Joe Doty